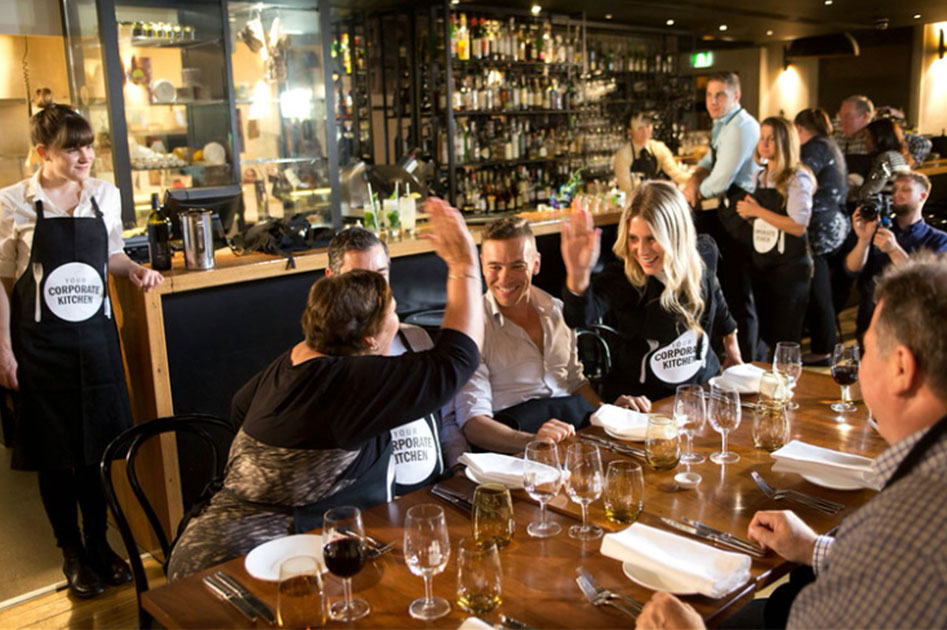 What is Your Corporate Kitchen
Your Corporate Kitchen (YCK) is the ultimate experience in corporate team building. A specially tailored leadership and development two-part program that culminates in the rewarding achievement of YCK participants running their company's own personalised fine dining restaurant at one of our partnered restaurants across Australia. It's fun, exciting, memorable and 100% interactive.
How it works
Your Corporate Kitchen is run across two stages. During stage one of Your Corporate Kitchen participants will be learning about their colleagues, uncovering some unhidden talents, tried some amazing food and wines and engaged in fun educational, team activities, all under the careful watch of our YCK line coaches. The YCK coaches, whilst helping you learn new skills, are also carefully analysing the strengths and weaknesses of each participant.
Stage two sees the participants undergo some intensive and challenging training ensuring they are capable of playing their chosen "role" in your company's corporate kitchen. You will have the chance to invite between 50-200 of your chosen guests who will get to enjoy and rate the food, wine and service provided by your staff in your company's personalised fine dining restaurant. Your team will be bonding, having fun and learning new skills as they take part in an unforgettable team building experience. Is your team ready to take on Australia's favourite team building challenge?  Enquire now>
Find out how Your Corporate Kitchen can help your business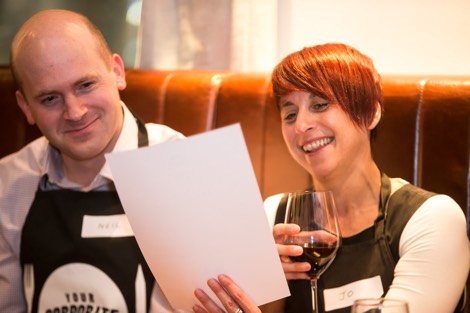 The objectives of Your Corporate Kitchen
Boosting morale, camaraderie and confidence among your employees
Improving communication skills
Helping individuals recognise strengths in themselves 
Increasing creative thinking, motivation and innovation
Improving decision-making, leadership abilities and negotiation skills
Recognising the importance and value of effective teamwork
Allowing management to recognise future leaders
Providing clients and/or colleagues with an enjoyable and memorable dining experience.
What our customers are saying... 
"A really unique thank you celebration for our management team…
the initial surprise created a great energy that continued throughout the night."
Maurice Bisetto, Partner in Charge Audit Victoria, KPMG.
"YCK was a fantastic EOFY celebration for us; we will struggle to top that for this year's event! We would recommend this to anyone looking for a unique and highly entertaining corporate function."
Claire Hocken, Personal Assistant to Managing Director, Fordham Group.
Our Chefs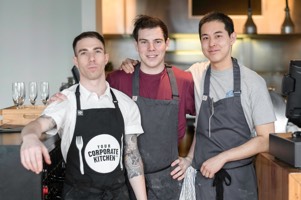 Our chefs are only chosen via a strict selection process, ensuring the taste, presentation and techniques used to prepare their dishes is of the highest quality and bound to lead to a friendly debate amongst participants. In most instances our chef's have worked at "Chef Hatted" or "Michelin Star" restaurants and specialise in various cuisines that can be tailored to your company's requirements.
Our wine lists which are matched to the food are some of the highest quality wines from all parts of the world, put together by our panel of experienced sommeliers.
Our Facilitators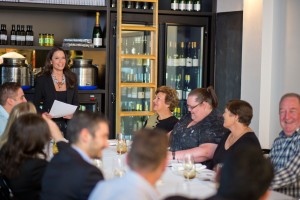 Our facilitators are trained to encourage conversation, debate and discussion amongst participants revolving around food and wine. One of their roles is to help instigate discussions and debates, and encourage participants to take on an opinion, give their own and reach a compromise for the betterment of the company.
Our YCK consultants will help you choose the right facilitator to suit your company's objectives. We have secured some of the best training facilitators who specialise in sales, leadership, media, communication and public speaking development amongst other skill sets.
The Ultimate Experience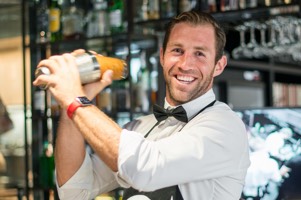 To further enhance your experience, our YCK consultants will provide you with a selection of additional options to enhance your YCK experience. We have partnered with various guest speakers, in sport, health, well being, leadership and entertainment to help drive outcomes for your organisation. With access to professional production companies, we are able to film, edit and supply your entire experience so you have lasting memories for future training purposes. YCK is the perfect mix of leadership and team building for your employees and the perfect setting for client entertainment and networking.